3 Lessons Learned from Building Unicorns in Atlanta
Atlanta has emerged as a growing software and technology hub, particularly in the B2B space. In 2021, Atlanta minted six new unicorns: Stord, Greenlight, FullStory, Flock Safety, Calendly, and Salesloft. On top of that, in the spring, privacy, cybersecurity, and data governance startup OneTrust raised a Series C round at a $5.3 billion valuation, and in November Mailchimp announced its sale to Intuit for $12 billion, by far the largest exit for an Atlanta tech company.
In mid-December, I had the privilege of moderating a panel discussion in Atlanta with three of the entrepreneurs and investors behind much of Atlanta's recent momentum and success.
Meet the panelists:
Lisa Calhoun – a former digital marketing agency executive and founder, Lisa also founded Valor Ventures, the first woman-led institutional venture capital firm in the South.
David Cummings – entrepreneur and investor who has founded ten companies including Pardot, Salesloft, and Terminus. David is also the founder of the Atlanta Tech Village and lead investor in Calendly.
Kyle Porter – CEO and Co-founder of Atlanta-based sales engagement platform, Salesloft, which recently announced a majority investment by Vista Equity Partners, valuing the company at $2.3 billion.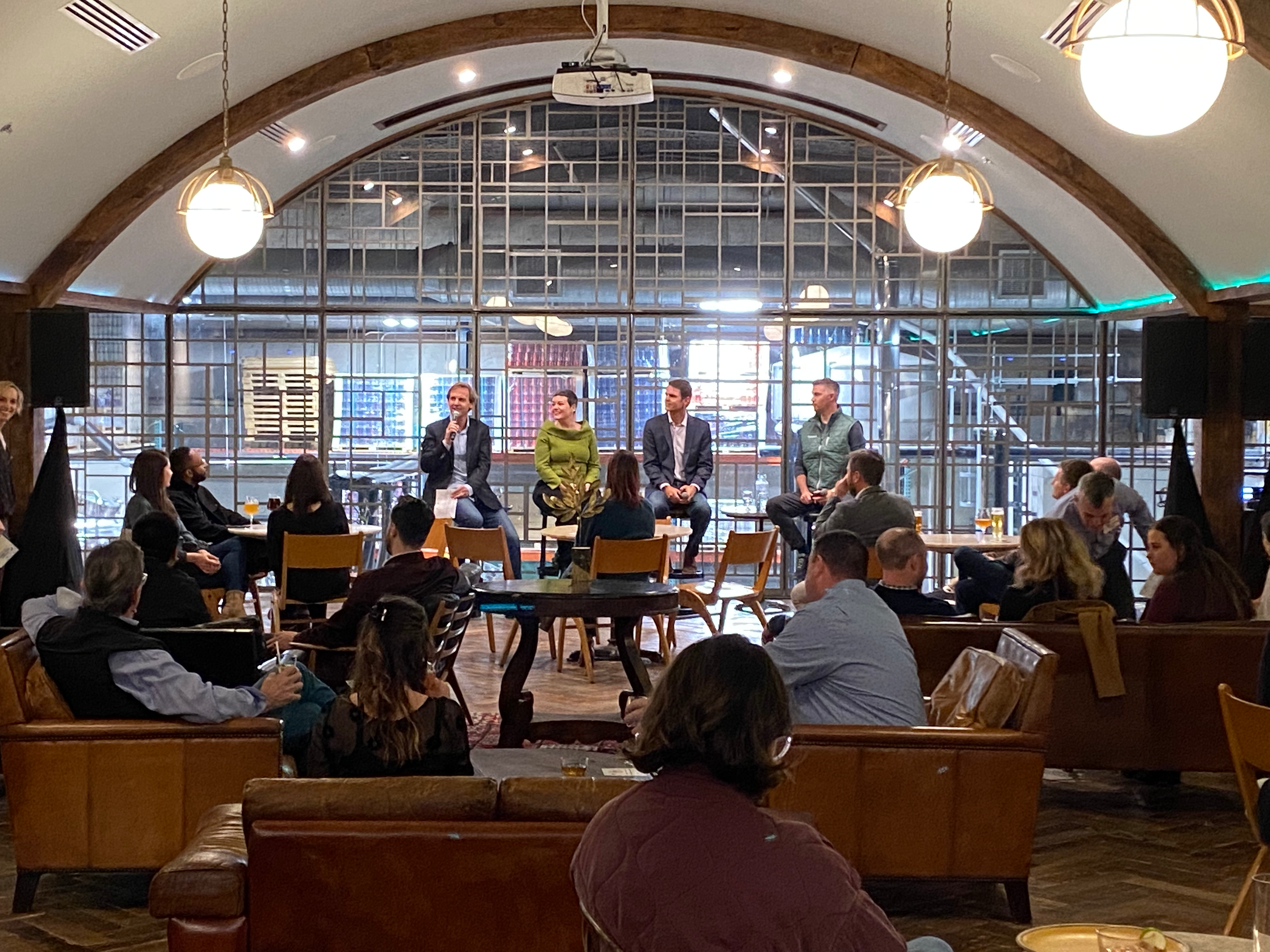 Dozens of technology and software leaders from in and around Atlanta gathered together, sharing insights and learnings at Bold Monk Brewing's beautiful Abbey Space. In addition to some much overdue in-person conversation and fellowship, Lisa, David, and Kyle participated in a panel discussion highlighting some key takeaways on building technology companies in Atlanta. 
Here's what I learned from our conversation:
1. Grow yourself faster than your company
Kyle made a point impossible to miss. Entrepreneurs who consistently reach their PEAKs need to be mindful of personal progress and grow more rapidly than their companies. I believe his exact words were, "scale faster than the rate of your experience." David did a wonderful job capturing this particular lesson in his blog post, "Personal Growth > Startup Growth." As a multiple-time founder myself, I learned this firsthand, putting it into practice through professional organizations like YPO and development activities like Conscious Leadership. The results have been transformative. 
2. Put diversity at the top of your investment or entrepreneurial strategy
Lisa articulated how diversity should be a top objective for all entrepreneurs and investors. Her own investment philosophy is to mirror the demographic makeup of the Atlanta metro and broader South that her firm is active in. She tied that back to how what makes us different is oftentimes our biggest competitive advantage. In a region as diverse at Metro Atlanta, use that to your advantage and to your community's benefit (after all, startups are the #1 source of wealth creation in the US.) 
3. As a founder, culture should be your #1 priority
Salesloft is well-known for its rich and vibrant company culture. Kyle made a great point about how a company's focus shouldn't just be about revenue or valuation. Organizational health needs to be the top priority of every founder and every executive team. Your company culture is your unique differentiator and really the only thing you have absolute control over, so focus on getting that right and everything else will fall into place. As Andy Pittman, VP of Talent at ShipBob told me after the event, "You can't control the market, but you can always control who you are and who you become."
A key theme unifies these lessons. People. Specifically, attracting the best talent possible and then investing in their growth–as well as your own. Doing so is a vital sustainable advantage as you continue building your business. 
Thanks to Lisa, David, and Kyle for their time and sharing their insights. Here's to more tech and software success in Atlanta in 2022!